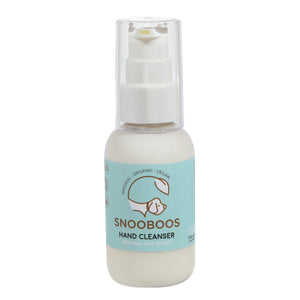 This ones for humans!

Our natural formula Hand Cleanser is a blend of cold pressed Olive oil & Aloe Vera, enriched with organic essential oils selected for the natural antibacterial properties. (Not a Hand Sanitiser) Cleans, protects and moisturises, it smells wonderful, perfect for keeping hands clean and conditioned on the go!  Works as an intensive moisturiser to condition dry chapped hands. Proven to help heal skin affected with eczema.
Perfect for use after continuous hand washing. 
Using chemical/alcohol  based sanitisers can cause extreme dryness to the skin. Our Snooboos Hand Cleanser restores moisture back into the skin.

Contains no alcohol!
Ingredients:

Abundant in olive extract, subtle enough to deeply rid the skin of debris and stubborn makeup. Sensitively preserved using organic orange fructose and vitamin E oil.
Cold pressed extra virgin olive oil & castor oil
Sweet almond oil - It is also anti-inflammatory, which may help with skin diseases and itchiness.
Castor Oil has been used in for centuries in Ayurveda as a multipurpose oil for dry skin and to stimulate hair growth on the scalp. Its triglyceride content is nourishing, soothing and hydrating.
The Original Boo blend is made up of several Essential oils - listed on the ingredients page.
Customer Reviews
02/08/2023
Kerri

United Kingdom
Amazing!
I've been keeping the Snooboos hand cleanser to myself because my fussy hands can't take any of the alcohol sanitisers. Finally ordered some more yesterday and it has already arrived!! Amazing under any circumstances. Now I might even share. Love the stuff and so relieved to have found it. Thank you.